Welcome to the Zayka Ka Tadka​ contest. Post your best recipes and win exciting prizes!!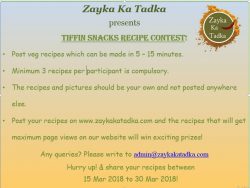 THEME of the contest: TIFFIN SNACK RECIPES that can be made in 5 to 15 minutes including preparation and cooking time.
Guidelines for eligibility:
1. Contest is valid from 15th March to 30th March 2018.
2. Share your best recipes ONLY on the theme (see above) with #zaykakatadka #tiffinsnackrecipe #contest. Valid Recipes will be published on our website. Pleas note once you submit the recipe, it will be published within 36 hours of submission.
3. Recipe and picture should be your own and not posted anywhere else before on any website or Facebook groups. Plainsman will not be entertained.
4. The recipe should be posted on www.zaykakatadka.com (and not shared on email).
5. Minimum 3 recipes need to be published by an individual.
6. The winners will be exclusively chosen based on the number of pageviews ( number of times their recipe has been read by a user ) will get on our website www.zaykakatadka.com . The pageviews will be found out using google analytics, so make sure you share the recipe link of the website with your friends , family and on different social media channels so that more people will read their recipes.
7. Contestant must have liked Instagram account of Zayka Ka Tadka (https://www.instagram.com/zaykakatadka/ ) and subscribed to our you tube channel ( https://www.youtube.com/c/zaykakatadka ) to be eligible for the contest.
8. Recipes should not have personal blog links, watermarks etc.
9. 3 winners and 5 consolation prizes will be announced out at the end of the contest. Exciting Kitchen Appliances and Accessories will be given to them by Zayka Ka Tadka team!
Got queries, send an email to admin@zaykakatadka.com. We will soon publish a video updating the process on how you can post your text recipes through mobile on Zayka Ka Tadka.
General Rules
All recipes submitted for the contest are bound by "Terms & Conditions" of ZKT (http://zaykakatadka.com/terms-of-service/)
Contestants will play by these rules and, where necessary, any supplemental rules stipulated by the Organizers.
The interpretation of these rules, will rest with the Competition Organizers, whose decisions shall be final and binding. Protests after the fact will not be considered.
Any contestant, during the course of the contest fails to comply with any of these rules, will be subject to disqualification from that event.
We reserve the rights to change the rules any time at our discretion