How to post a recipe on Zayka Ka Tadka?
Please find the Video Tutorial here: https://www.youtube.com/watch?v=5T3yuh4vJsY
1. Go to ZaykaKaTadka.com and signup/login with your credentials by clicking on Add your text recipe in ( from laptop) in the main menu bar , it will take you to SIGN UP page! Once you have signed up, then follow step 2. If doing from your mobile, then please click on NAVIGATION and then Add Your Recipe which will take you to Sign up page.
2. Click on 'Add Your Recipe' -> 'Add Text Recipe' in the main menu bar (near Home and Recipes options).
3. Fill in the details:
Recipe Title: Enter a captivating title for your recipe.
Tags: Enter tags which will help in searching your recipe.
Servings: How many people can be served?
Enter Prep Time, Cook time & how many minutes overall the dish would be ready in
Upload your original pic of the recipe.
Write a small description of your recipe.
Add ingredients and the quantity one by one (individually) by adding plus button.Add the instructions of your recipe step by step adding plus button.
Fill in the appropriate Recipe type, Recipe category, special category and skill level from the drop down menu.
4. Click on Submit button.
5. We will publish the recipe after review.
If you have any questions, please feel free to mail us at info@zaykakatadka.com
PROCESS FLOW CHART ON MOBILE: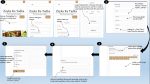 PROCESS FLOW CHART ON LAPTOP: