We all know happy Raksha Bandhan becomes happier with some sweets and Raksha Bandhan songs around. Here are 12 Rakhi festival recipes that you should try making this year!
As per hindu calendar, Raksha Bandhan 2017 falls on August 7th and is a bonding time for many families. Raksha Bandhan recipes are on our mind and we know you are thinking about them too!
How do we celebrate Raksha Bandhan | Rakhi ?
Raksha Bandhan is an Indian festival, usually celebrated between a brother and a sister. The sister ties the rakhi (a decorated sacred thread) to her brother's wrist and wishes him prosperity. The brother in turn gives her a gift and promises to be there for her. Aarti, tilak and sweets definitely make their place in the process. Raksha Bandhan has such huge significance that even in the age of sending online Rakhi gifts, online Rakhi wishes and Rakhi messages, many sisters who live abroad still  try and send Rakhi to India.
Why do we celebrate Raksha Bandhan | Rakhi ?
Rakhi festival is that occasion, where we spend time in realizing the importance of wishing good things for someone or reflecting on the support system that we have built for each other. We should be proud to have such strong family values and close knit communities and should take a moment to appreciate the same. In a sense, I feel it can be celebrated among any two persons who have a willingness to honor the festival in such spirit of empathy and not create a difference in our roles in the family. Hence the emphasis is more to recognize the worth of such priceless relationships, than just sending an instant message wishing 'Happy Raksha Bandhan' or receiving gifts.
No festival is complete without some mouthwatering sweets, isn't it? We know that all of you would be grooving to some Raksha Bandhan songs, so these sweet recipes come in handy to keep your guests happy.
Here is a colorful Raksha Badhan thali with various burfis. There is sevaiyan burfi, almond burfi, carrot burfi, chocolate mava burfi and coconut burfi. Can you ask for more?
Please click here for the recipe -> Raksha Bandhan sweet thali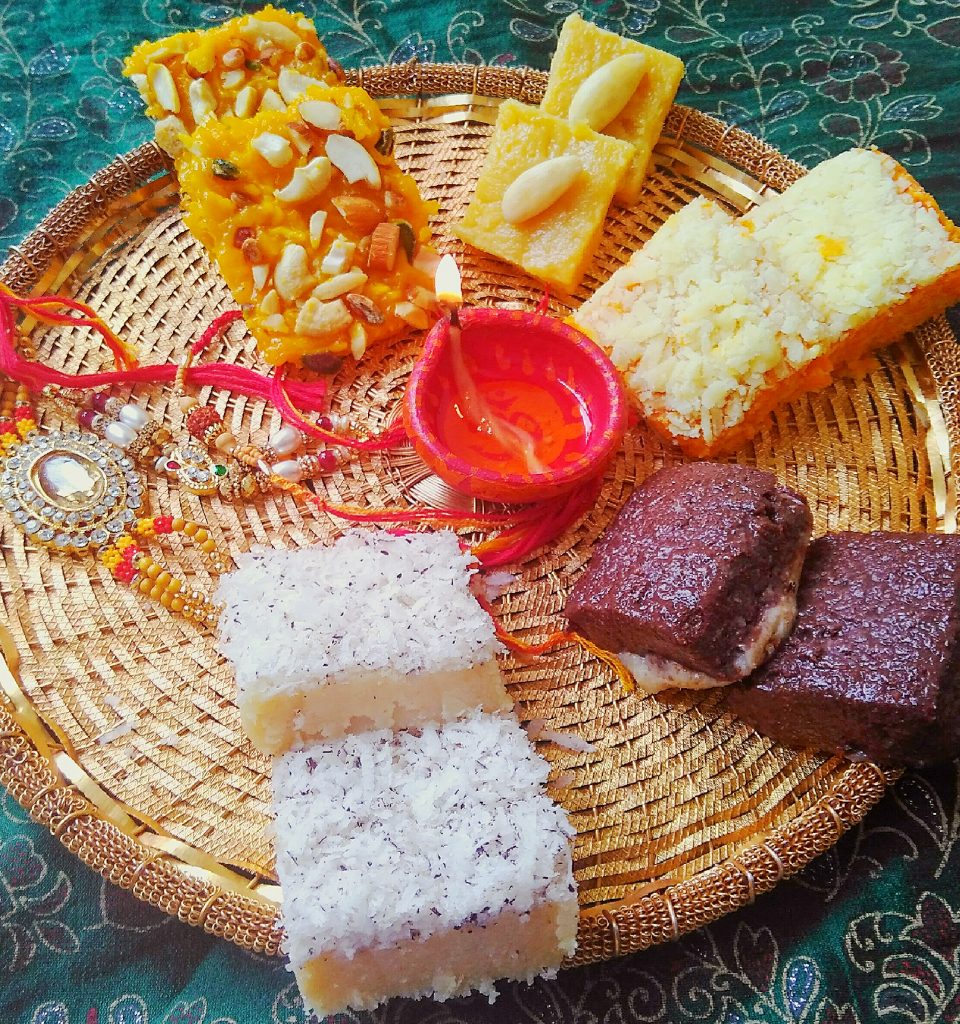 Who doesn't love gulab jamuns? But this time around, instead of getting a readymade gulab jamun mix, try this paneer variation and the gulab jamun would turn out to so soft and creamy!
Please click here for the recipe -> Paneer Gulab Jamun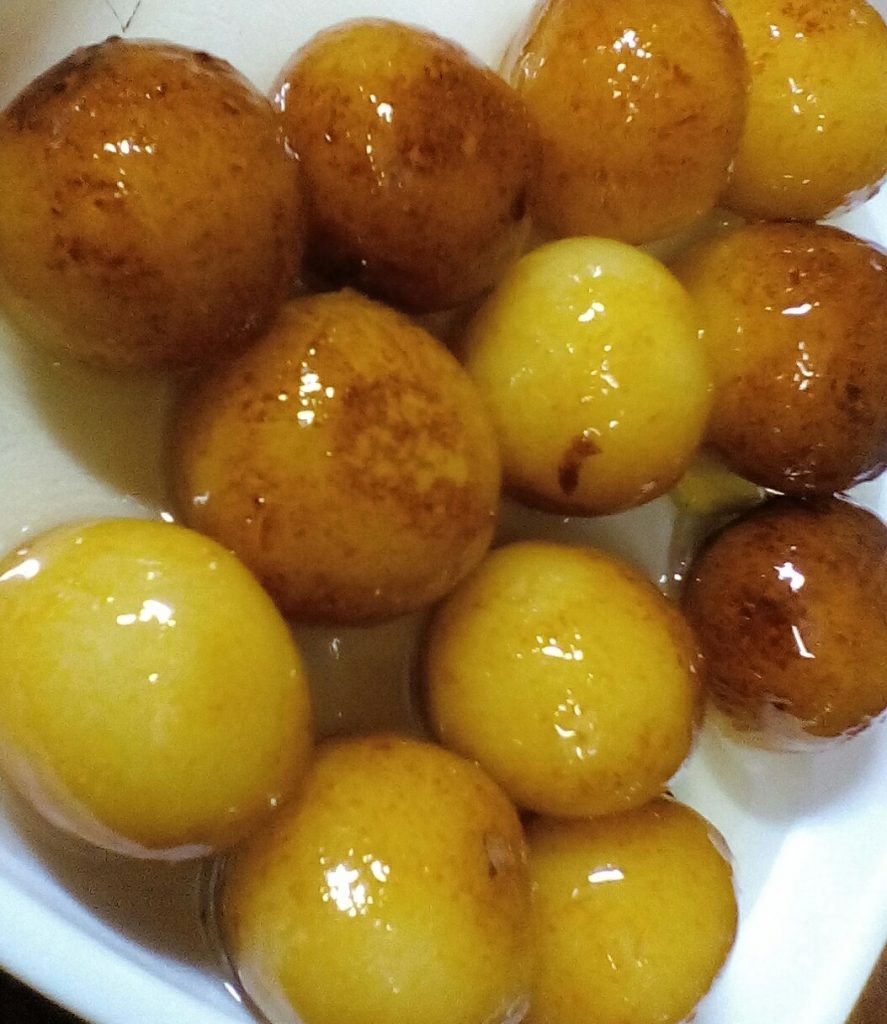 Though ladoo is the most common sweet in India, we never feel satiated with eating just one, isn't it? Forget the regular boondi ladoo and try this suji coconut malai ladoo for a change!
Please click here for the recipe -> Delicious Sooji Coconut Malai Ladoos!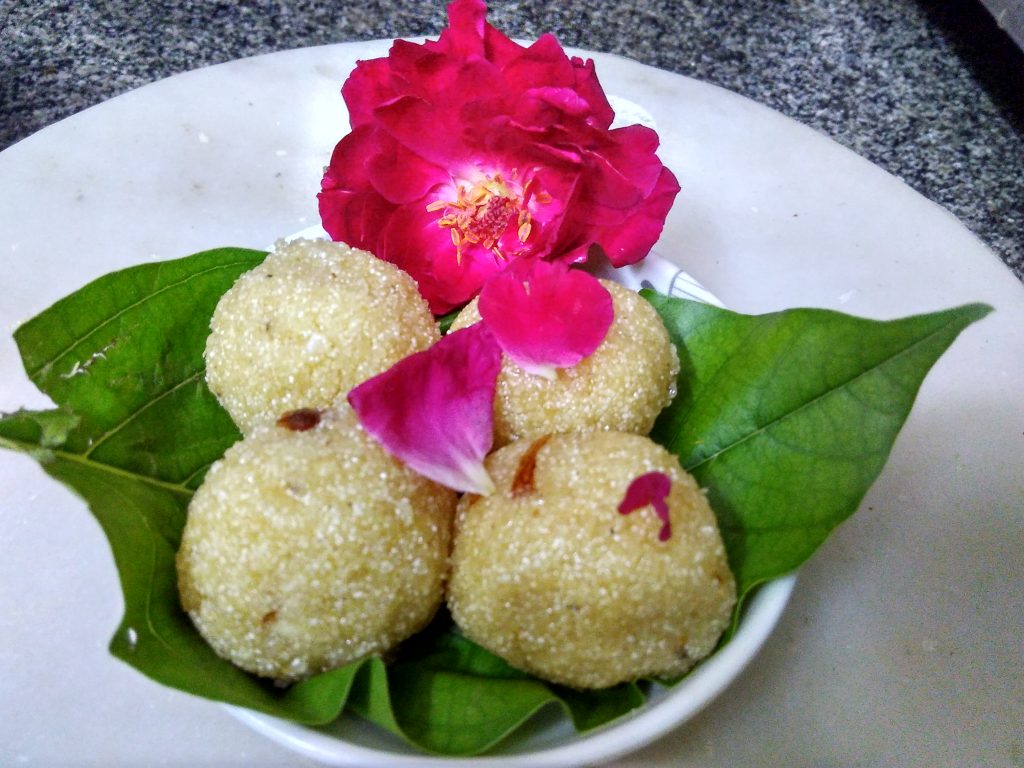 The secret behind the awesome texture of this kalakand is, how patiently you keep stirring it till the mixture just turns to golden crumble. You should definitely try this recipe for Raksha Bandhan to know better!
Please click here for the recipe -> Kalakand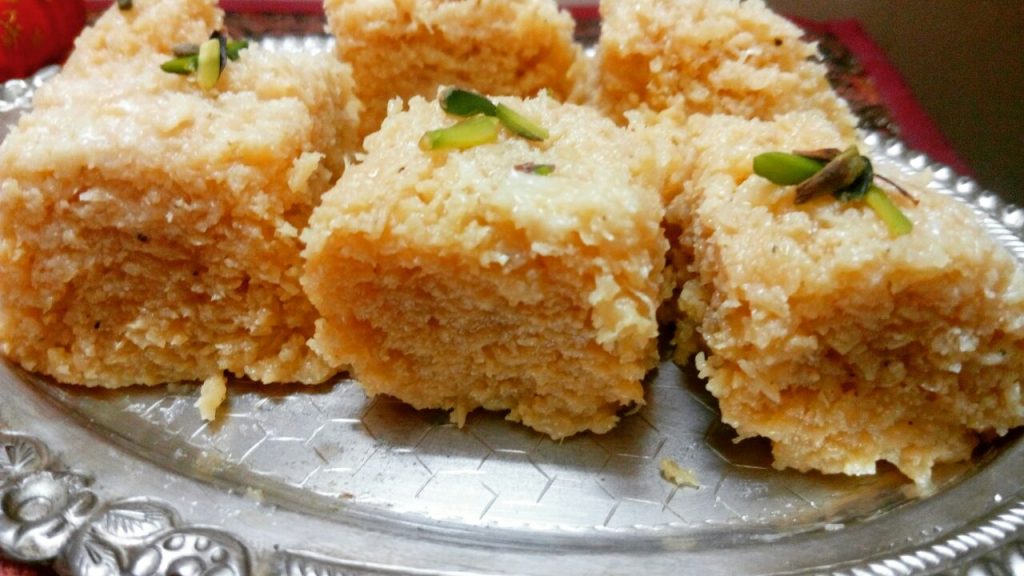 Cham cham is a famous Bengali sweet that is so juicy, soft and made with chenna/paneer. The use of pistachios and saffron strands gives it a distinct flavor that is hard to resist.
Please click here for the recipe -> Chumchum – Bengali Special Sweet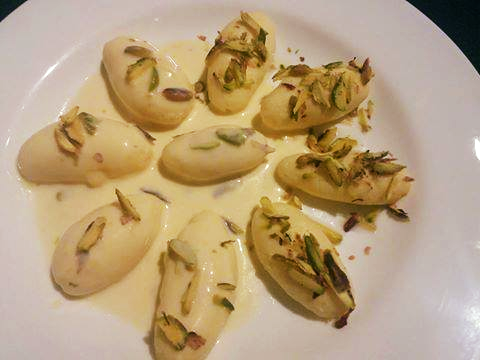 Ghevar is a famous Rajasthani sweet that is known for crunchy texture as it is deep fried. It comes in various flavors depending upon the type of syrup it is dipped in once it is fried. Here is a mango rabri version that your family would love!
Please click here for the recipe -> Ghevar In Mango Rabri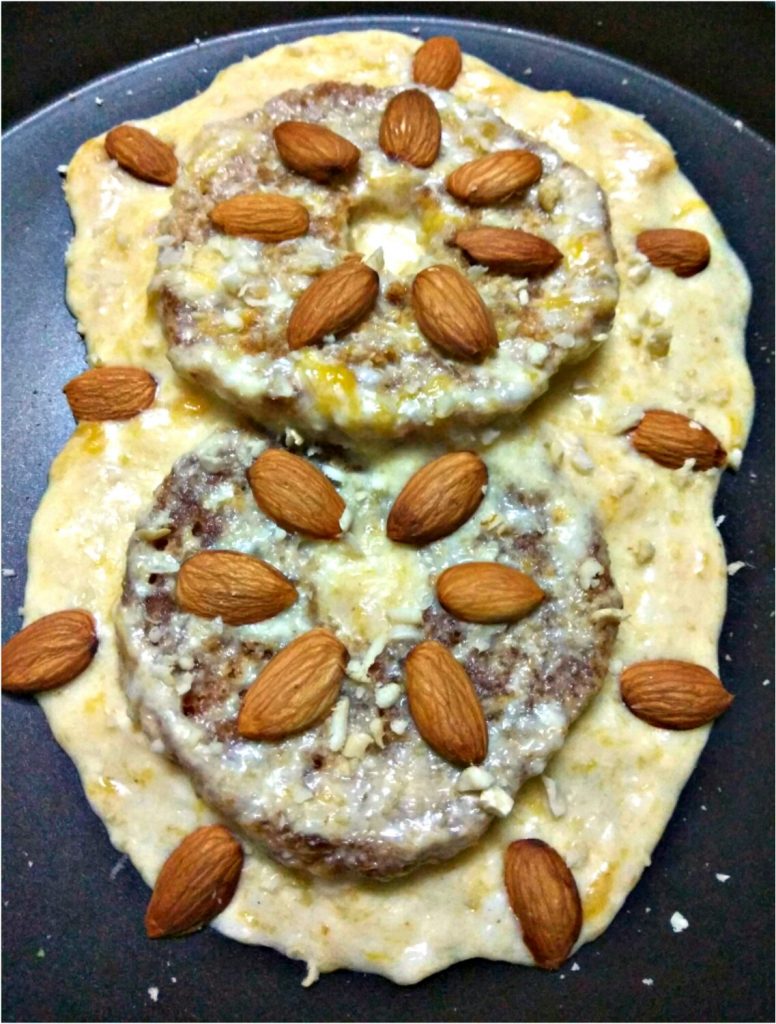 The texture and flavour of this coconut barfi will definitely make you go back for more. This is a simple barfi recipe with minimal ingredients.
Please click here for the recipe -> Coconut barfi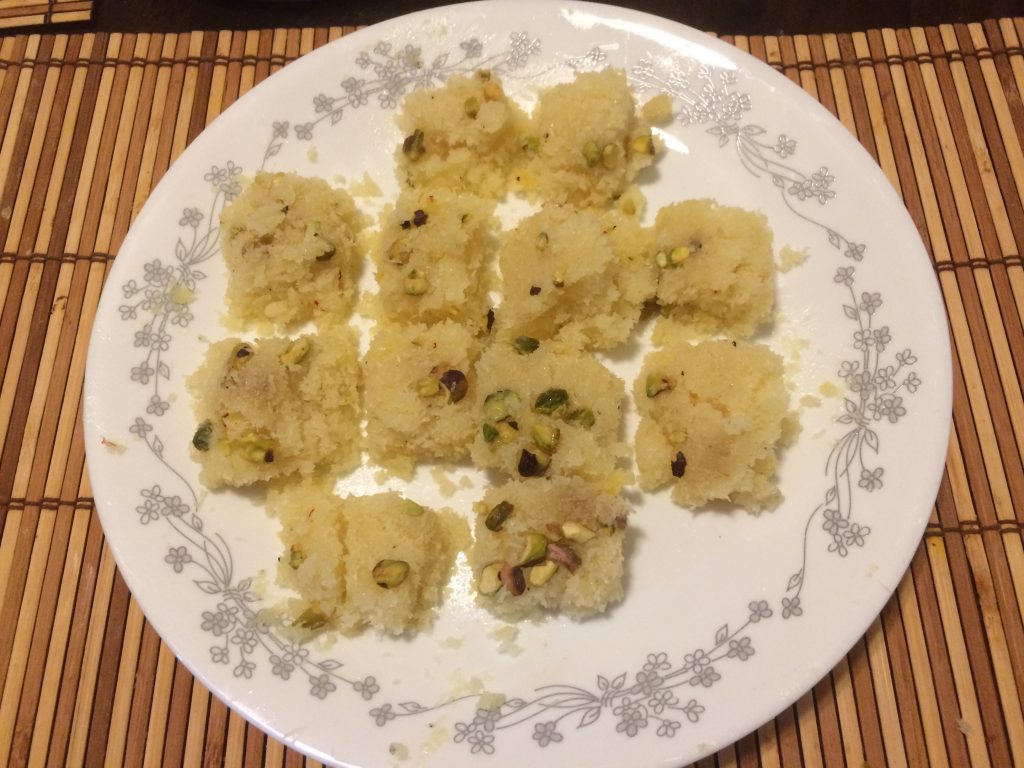 Moong dal halwa is not only delicious but is also a good way of adding some dal even in sweets. Hence it is a great way of adding this to your kid's diet, along with enjoying it on Rakhi day.
Please click here for the recipe -> Moong Dal Halwa – Delicious Dessert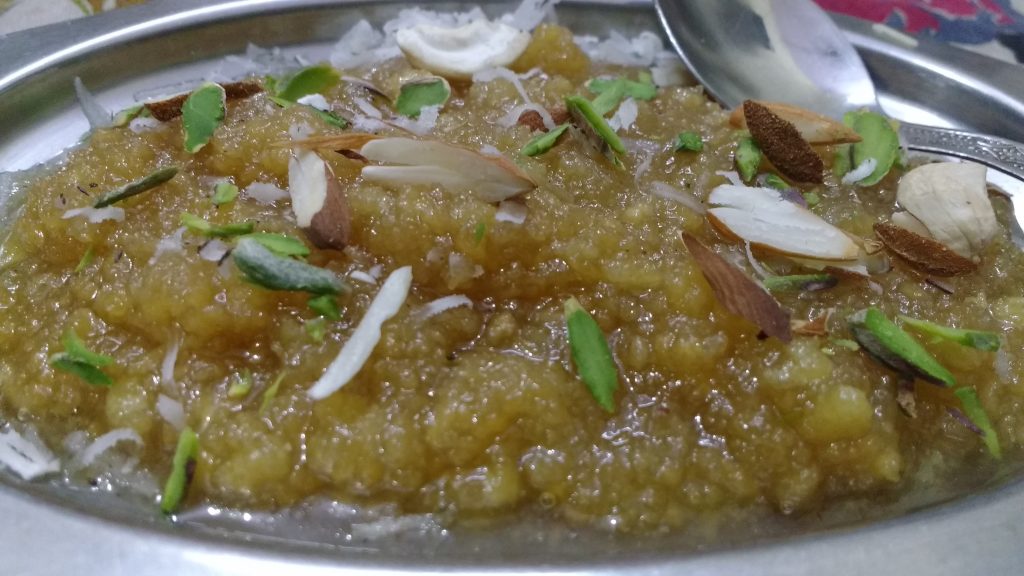 Kalakand is a versatile sweet that is known for its chewy texture that is addictive. Kalakand in mango flavor just makes it more inviting!
Please click here for the recipe -> Mango Kalakand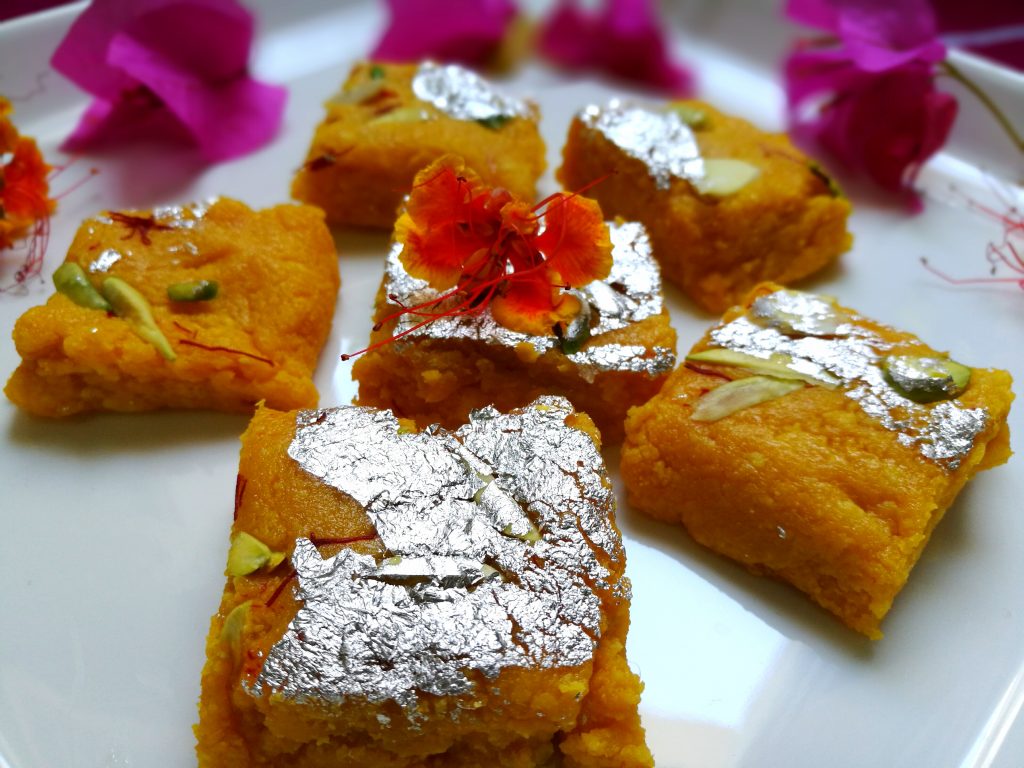 Are you wondering which sweet to prepare for those health conscious members in the family? Frent not! Try this kheer that has the goodness of apple and oats and can even be a great addition for toddlers.
Please click here for the recipe -> Apple Kheer With Oats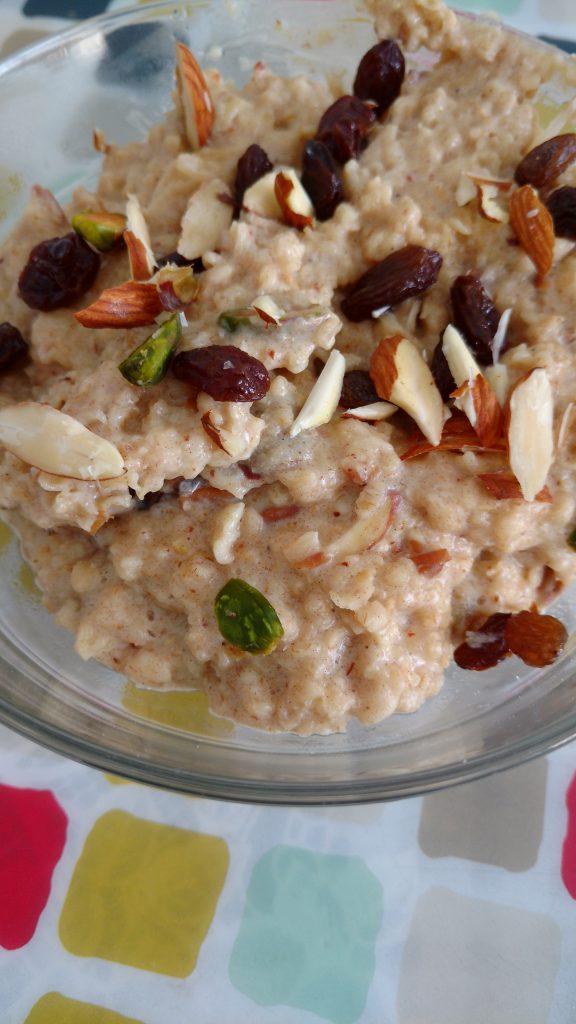 Ras kadam or kheer kadam is more famous in eastern states of India. It is a quick recipe with chhena base and becomes richer with the addition of khoya.
Please click here for the recipe -> Kheer Kadam | Ras Kadam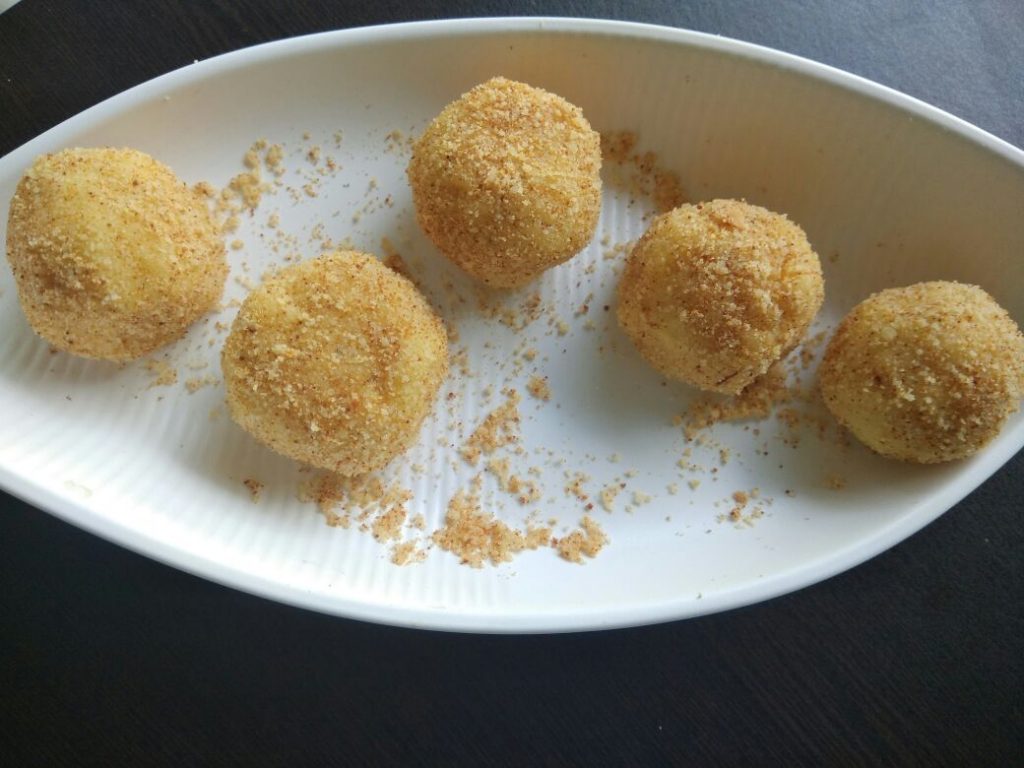 If you have more guests coming in for Rakhi then try this traditional Rajma – chawal recipe for lunch, along with sweets, to make it a complete meal.