The sun is shining bright and soon the strawberries would disappear from the markets. Try these yummy strawberry recipes before they go out of season!
Winter season is marked by a wide production of various crops. Vegetables, fruits, cereals, pulses etc flood the markets. A very important and attractive fruit that adorns the supermarkets as well as the fruit shops in towns is, strawberry.
Starwberry nutrition facts
Strawberry is a berry fruit with its seeds on the outer side. They are produced on vines and have tender stems. Strawberries are very popular among kids as they are cute heart shaped and have attractive red colour.
Strawberries are rich in phenolic antioxidants vitamin c folic acid manganese and potassium. Their red colour is due to phytonutrients and flavonoids. They are helpful in weight loss, boost vision, brain functions and immunity. They are also said to provide relief in gout and arthritis.
Other benefits of Strawberry
Apart from nutritional value they also aid in skin treatment. They form an excellent mask for the skin nourish and revitalize it and aids in lightening up blemishes and scars caused due to acne.
In this season do try out the following recipes and try to include them in your diet.
Banana strawberry shake recipe
A very popular and very easy recipe and is liked by the kids. This recipe must be tried for sure. Kids will like the pinkish colour which is imparted by mixing of milk and strawberries.
It is always said that the foods which are not beautifully presented might not be liked by all as they are not inviting. First we eat with our eyes. If the food is appetizing it is well received by everyone. This will be liked by the kids and grown-ups all alike.
Please click here for the recipe-> Banana strawberry shake

Farhaali strawberry chutney/Dip/Sauce recipe
We Indians are obsessed with making fresh and eating as much fresh as possible. We try to avoid leftover food. Chutneys are an important accompaniment for various kinds of foods, be it dhoklas parathas, rotis or rice. This chutney can be tried as it is a bit different from the coriander-pudina chutney we often make. This can be stored in the fridge and eaten for quite a few days. Again kids will enjoy its sweet and sour taste.
Please click here for the recipe->  Farhali strawberry chutney

Oats strawberry pancakes- instant and fruity recipe
Pancakes are an easy and comfortable breakfast option for all age groups in the family. These pancakes are made from oats. As said earlier, strawberries aid in weight loss. Oats and strawberries coupled together will be highly helpful in dieting  and weight management.
Please click here for the recipe-> Oats strawberry pancakes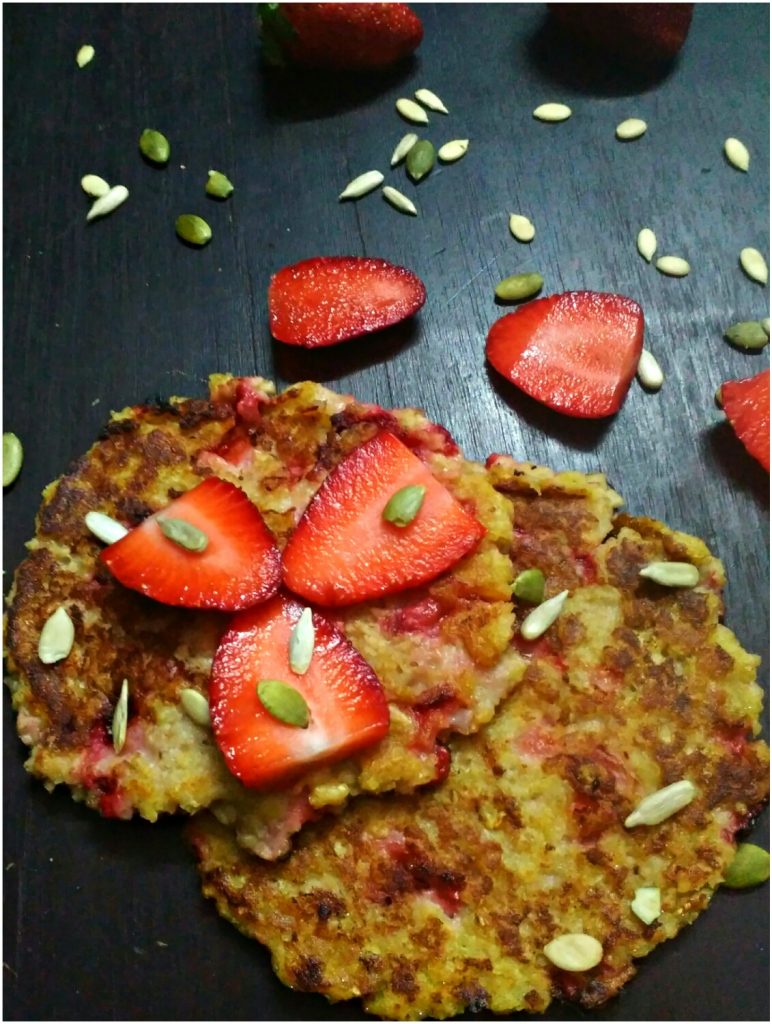 Strawberry kiwi raita recipe
Raitas and curries are an important accompaniment in Indian meals. Apart from the routine raitas this raita can be tried in this season for a healthy change. It can be made within five minutes and does not require fancy ingredients. This is a must try for the people having a tooth for fruits.
Please click here for the recipe-> Strawberry kiwi raita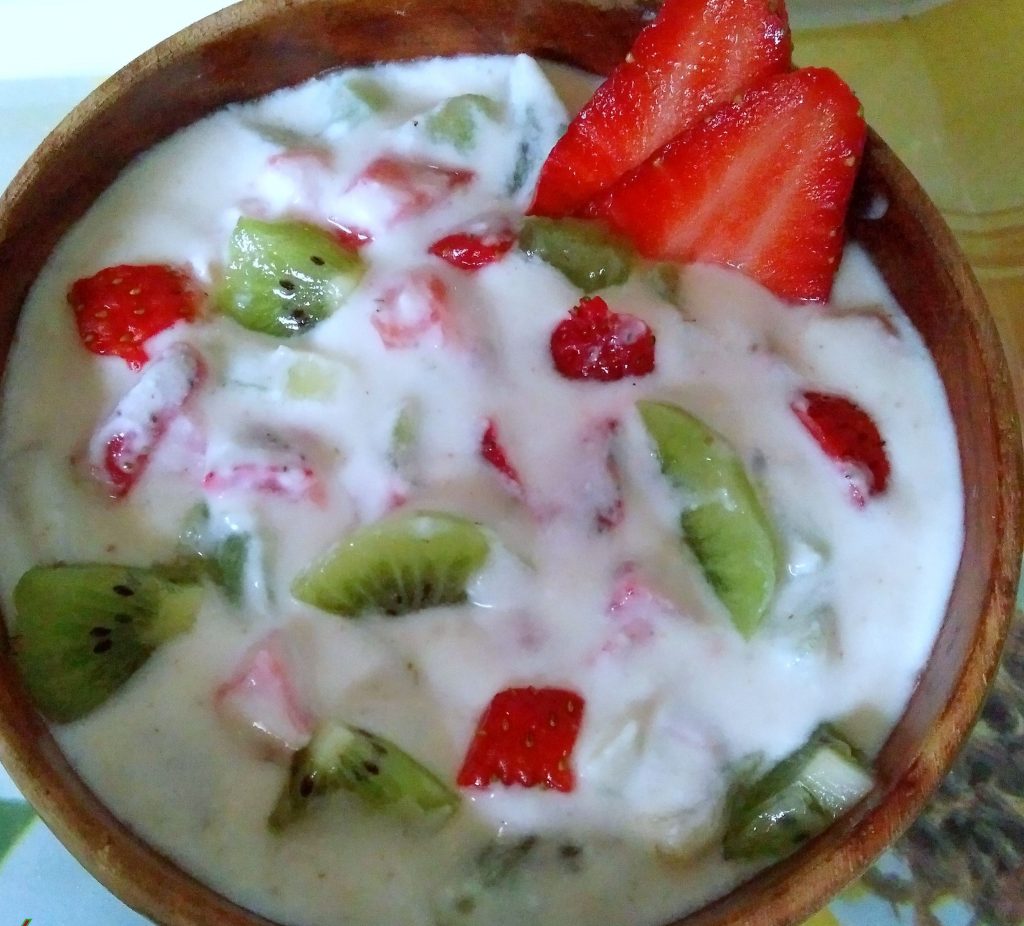 Strawberry and carrot cake recipe
This carrot and strawberry cake is full of health. It should be tried because it will be enjoyed by everyone and is loaded with nutrients.
Please click here for the recipe-> Strawberry and carrot cake

I hope you will like the collection as there is a variety in it. There are more recipes which can be found on the website.
Do try these Strawberry recipes and relish the seasonal produce. Enjoy cooking and always try new recipes and bring variation in cooking. Happy cooking.